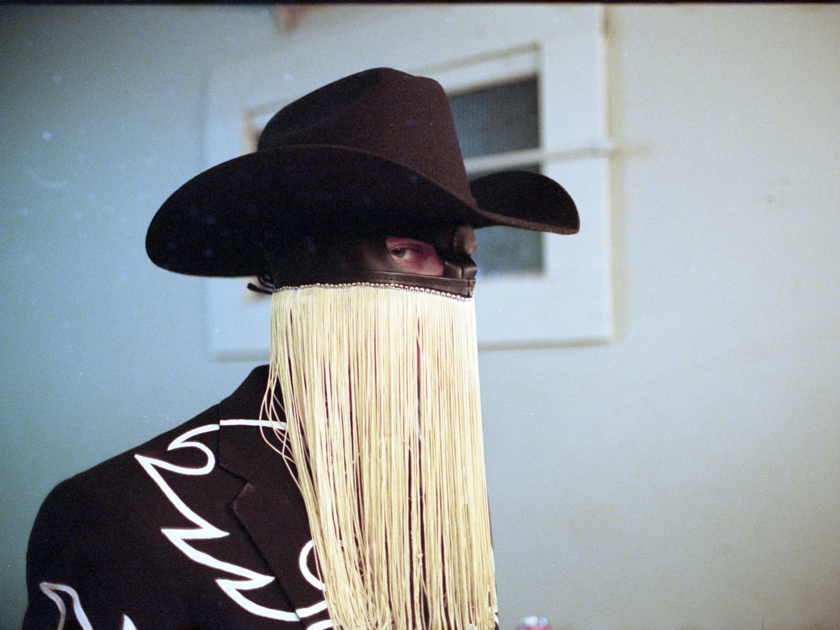 [ad_1]

CHEYENNE – To Orville Peck, country music and camp go hand in hand. His entire aesthetic is rooted in the performance of glitzy, Dolly Parton-inspired country, and his signature fringe-masked look is a sign of his commitment to that culture he loves and respects.
Peck will perform Saturday at The Chinook at Terry Bison Ranch, and he's thrilled to be back on the road touring – especially in places where his presence as a proud member of the LGBTQ community feels particularly significant.
"Coming into towns like Cheyenne when there's things like the rodeos going on, I'm in my element," Peck said. "I deserve to be there, just as much as everyone else, so I think I bring an attitude of … everyone's welcome and everyone's valid, and I think it's a good energy to bring into those spaces."
Peck and his old-school crooner voice will make their Cheyenne debut with the performance, which marks just his second show in the Cowboy State after his debut in Casper earlier this week.
It's been a readjustment, getting back to performing live, but Peck feels a new sense of gratitude for getting to share his music with people after a long, pandemic-induced break.
"I think I just have such a reinvigorated respect and kind of admiration for being able to play shows again," he said. "It's such an important thing, and I think everybody's kind of feeling that."
One thing fans never had to take a break from was Peck's music videos, a couple of which came out during the early days of the pandemic in spring 2020. The bedazzled belt buckle glistening under a cloudless sky in "Summertime" and the majestic, snow-capped mountain landscapes of "No Glory in the West" take viewers on a cinematic journey with this modern cowboy, who is always portrayed either solo or surrounded by a diverse cast of friends.
Asked if the latter is intentional, Peck made it clear that his videos aren't intended to be some sort of rainbow-colored gimmick.
"It's not necessarily something I consciously set out to do in a way that feels forced. I think it's because those are all just my friends and the people that inspire me," he said. "I think within country music specifically, sadly, a lot of country tends to be a singular vision or a singular perspective, and, for me, I know so many different types of people who love country music and are in that world, and work and live in those spaces."
Those people don't always get to see themselves represented in country music videos or hear themselves sung about in country chart hits, Peck continued, so it simply feels natural for him to include those perspectives – especially when a lot of them helped shape the genre as a whole.
It's not about feeling obligated or having an agenda for Peck. Instead, he features people of all colors, body types and sexual orientations in his videos because he wants to reflect the vision of country culture that already exists outside the popular paradigm.
Peck's thoughtful approach to his visuals is deeply linked to his songwriting process. The question of "what would this music video look like?" is often one of the first things he asks himself, his sound engineer and producer when working on a new song, and it shows in his storytelling technique.
"That kind of helps shape the music so we can make the music sound like what we want the video to look like or the imagery to look like," he said. "So the videos come really easily because I feel like once the song is all finished, there's already kind of a very clear image in place."
Maintaining creative control has always been vital for Peck, who said he feels lucky to have a team of people around who let him do what he wants because he always comes in with a clear vision. Being unapologetic in his approach from the beginning was key, he said, because "coming out guns blazing" has led to everyone wanting to celebrate that vision, rather than stifling it.
"I think people kind of know that it's going to be something dramatic and extra and theatrical," he said with a laugh. "And they know that's kind of just what they get with me."
That theatrical style might feel foreign to some country fans, he admitted, but he hopes Cheyenne concertgoers can focus on the classic country sound they all have a shared love for, rather than their differences.
"Obviously, maybe I look a little different than what some people are used to in a country performer," Peck said. "But I think if someone wants to come to my show and they know nothing about me, they can expect a really fun-loving atmosphere that is just really celebrating country music and celebrating individuals … we all kind of share the same story at the end of the day, so I think people can come and expect to hopefully feel like what I'm singing about connects with them."
Niki Kottmann is the Wyoming Tribune Eagle's features editor. She can be reached at [email protected] or 307-633-3135. Follow her on Twitter at @niki_mariee.
[ad_2]

Source link