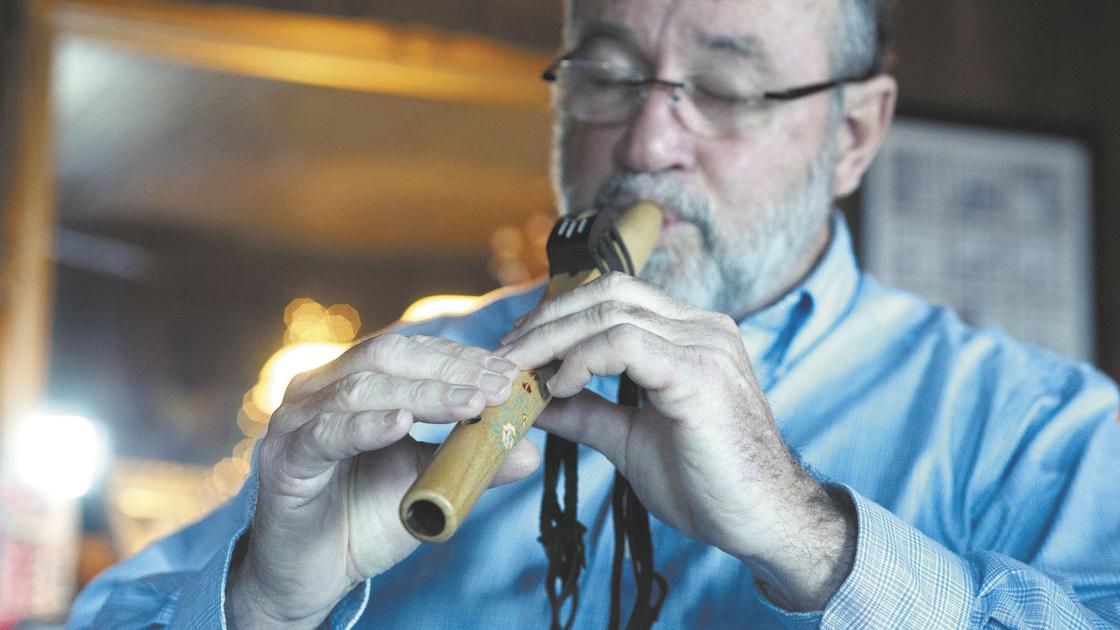 Whether performing on the nation's most prestigious stage, or a humble, one-room historic church, Tyrrell County's Bob Waters said music for him, "stirs emotions in a way nothing else can."
The multi-instrumentalist, who has toured with the National Symphony Orchestra and played in such renowned places as Carnegie Hall in New York City, was also a member of the Kennedy Center Opera House Orchestra in Washington D.C. Yet, he contends the acoustics in tiny, high-ceilinged, 300-year-old churches, such as Rohoboth Methodist Church in Washington County, are unbeatable.
For Waters, music, "simply makes life better."
There is not usually a day that goes by Waters is not playing, practicing, researching or arranging music.
"It would indeed be a rare day if it passed without music being a part of it," he said.
Waters, who is proficient on baritone, bass, tuba, banjo, hammered dulcimer, auto-harp and guitar, can also play many other instruments well, such as the piano, flute and organ.
He traces his interest in music back to elementary school in Hagerstown, MD, where in fourth-grade his interest was piqued by the instruments and songs introduced to the class.
"We had really good, inspiring music teachers," he added.
Waters was especially inspired by the songs of Stephen Foster.
"I'm in my mid-60's. When I was growing up, we sang a lot of his songs. It was just a part of what you did in elementary school," he said.
Last year, Waters applied for, and received an Artist Support Grant through the North Carolina Arts Council to write a one-act, one-person musical docu-drama on the life and songs of Stephen Foster.
"I wanted to do something really different and stretch my ability beyond what I have in the past," he said.
Waters' act is a type of quest to save Foster's songs from being erased from the annals of history.
Known as the Father of American Folk Music, and the first American Composer, Foster wrote his songs and music during a time in history (19th century) when minstrels were a highly accepted art form.
These minstrels usually incorporated entertainers — typically white actors with blackened faces – and featured songs, dances, and comic routines based on unflattering, stereotypical depictions of Black Americans.
"What they were doing was wrong," said Waters. "It is part of the conflict he had in his life. He wanted to sell music and at the time, what was popular were the blackface minstrels."
Waters said both white people and black people participated in these parodies.
"It is how many musicians made money during that time," he added. "But, some of the lyrics are not anything we would listen to today."
Waters hopes to protect the spirit of Foster's music by arguing that, while some of the language he used is not acceptable today, he was a man of compassion, inspired by the music of the African American community.
He said Foster was inspired by the music of the Black church he attended at times, as well as the songs of Black laborers at the Pittsburgh warehouse where he sometimes worked.
And, "he would go and sit at the waterfront where a lot of Black people worked as stevedores" (people who were employed to unload cargo from incoming ships), who would sing while they worked.
"That got into his blood and a lot of these melodies that made him famous — that we sang in elementary school — were inspired by that," he said.
Foster wrote the music and lyrics of around 200 songs in his lifetime, the most famous of them being Oh! Susanna, Camptown Races, Old Folks Home (Swanee River), Beautiful Dreamer and Jeanie with the Light Brown Hair.
"He did not have much formal training. People say that if he had, he would have written symphonies. But in my mind, I am glad he didn't because he was able to connect with people through songs — no one else before him, or really after him, has been able to do," Waters added.
Waters wants Foster to be defined by more than the vernacular used in many of his songs.
He plans to use 16 of Foster's songs, six folk instruments and change offensive lyrics to more accepted terms, but keep the meaning of Foster's message.
Waters wanted the music to be as authentic to the way the artist wrote it as possible.
"He often composed on what was called a melodeon, or a little pump organ," said Waters. "I thought it would be good if I could find something like he had."
He searched for, and found, a 1904 portable organ, an instrument on which Foster often used to serenade people.
The Estey portable reed pump organ he found on eBay was fragile and in need of repair.
"It was in pretty rough shape," he said. "I bought a couple of books, looked on the Internet and tried to figure out how to restore it so it would play. Luckily it does — about 100 hours of work later."
The organ, which produces sound from pumping air (using foot pedals) through reeds (thin metal in frames), and pressing a key, has about half the keys of a traditional piano, and folds up like a suitcase for easy transport.
In his performance, Waters also plans to play a Native American flute, banjo, Celtic harp, auto-harp, button accordion and guitar.
Waters is 75 percent finished with his play, but is not sure exactly when he will be able to perform the one-person docu-drama, since COVID-19 restrictions have prevented many large gatherings and cancelled countless live performances in the state and across the nation.
"I found out I got the grant right before Christmas. The deadline is June of 2021. I'll be done before then, but COVID has thrown a wrench into everything. My goal in writing the grant was to be able to perform the act in some of the rural counties around here."
He also plans to perform at local art councils and historic churches throughout the region.
Waters, has lived in Tyrrell County for over 20 years. He previously served in the United States Coast Guard as a helicopter pilot. Upon leaving the military, he earned his teaching degree and taught school for about 20 years — first in Maryland, then Manteo, eventually moving to Columbia to serve as director and teacher at the Alternative School. He finished his teaching career at Beaufort Community College, retiring in 2014.
While teaching, he also served in the 440th Army National Guard Band in Raleigh, playing mostly the tuba and euphonium.
Waters realized when he retired from playing professionally, he has a penchant for folk instruments.
"I guess once I stopped playing in a band, and didn't play in a symphony anymore, I was drawn to folk instruments because of the simplicity of a lot of the tunes. They communicate thoughts and ideas in a very direct and simple manner — that a lot of people can understand," he added.
He enjoys playing acoustic and folk instruments, such as the autoharp, and hammered dulcimer — but his favorite is his Cajun accordion.
Before the pandemic, Waters had led music at local churches and performed regularly at festivals and community events across the northeastern part of the state.
He said that for musical performers, the pandemic has been particularly harsh, stripping them of their livelihood, as well as taking from them something extremely fulfilling.
He admits to being somewhat discouraged by the restrictions imposed as a result of the pandemic. He hopes that possibly by the summer he will once again have venues at which to perform.
For Waters, no matter how dark the world may seem, music is the balm.
"I can't imagine life without music, or a world without it," he said.
"There is no other medium that expresses emotion like music. Whether it's for a celebration, or for something that is profoundly sad, music offers a comfort and a healing that goes beyond words," Waters added.
Deborah Griffin is a Staff Writer for The Daily Reflector and Eastern North Carolina Living.