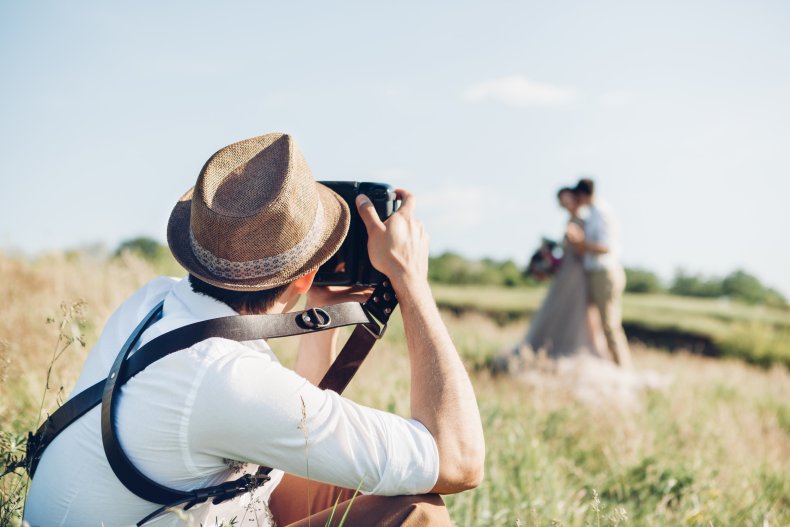 Planning a wedding can sometimes be a testing process when there are many opinions from various family members that come into play. For one bride, the impact of having an influx of opinions was felt on a personal level when her fiancé and his family made the suggestion to alter wedding photos due to a facial scar.
In 2018, the Knot reported that according to a survey conducted by framing company Framebridge, 29 percent of couples admitted to Photoshopping their wedding photos while 71 percent decided to leave their photos more natural.
The soon-to-be bride and Redditor @Throwaway5737657 wrote about the offensive incident on the subreddit "Am I The A*****e" in a post that has been voted on over 15,000 times.
"Aaron and I were discussing the wedding photos and my facial scar that I had in my early 20s came up, Aaron suggested that we have this area of my face (where my scar is located) photoshopped, I laughed thinking he was joking but he said it was for real," the Redditor wrote.
She said that after going back and forth, her fiancé, Aaron, admitted the idea came from his mother though but said he thought she had a point.
The Framebridge survey also went on to find that millennial couples were twice as likely to photoshop compared to Gen-X couples. The Knot noted that photoshopping can be just small retouches like adjusting the lighting or editing wrinkles out of a dress.
The Redditor said that when her fiancé first suggested the photoshopping he said that photos would last for years and that he wanted them to be "flawless."
"I looked at him and asked if he sees my face as a flaw, he immediately apologized and said absolutely not, It's just that all couples point out what should and should not be photoshopped to get the best wedding photos," she wrote.
She said after finding out that her future mother-in-law was behind the suggestion, she spoke to her directly. The Redditor said her fiancé thought she was being "too sensitive for no reason."
"I had an argument with my future mother-in-law after she nicely tried to talk me into considering it, most the women in the family agreed with her and Aaron and said this is what photoshopping is for, and lots of people do it because they're not happy with a certain area in their appearance," the Redditor wrote. "I told them I'm different because I'm not bothered by my appearance nor do I want to change it for any reason or occasion for that matter."
Commenters backed the woman saying her fiancé and his family are the problem.
"NTA, but this is a preview of the rest of your life. I personally would not marry a person that treated me that way," one commenter wrote.
"NTA. Maybe you should photoshop MIL right out of the pictures. Fiancee is an [a*****e] for not telling his mom to mind her own [damn] business," wrote another.
The Redditor said that her fiancé's family went as far as to tell her she needs to seek therapy to "deal with past trauma."
She said her fiancé said she was being "ridiculous" for being "so hung up on this non issue."
"If it's such a non-issue, why doesn't he back down? He's the one hung up on it, not you," one commenter wrote.
Newsweek contacted @Throwaway5737657 for comment.