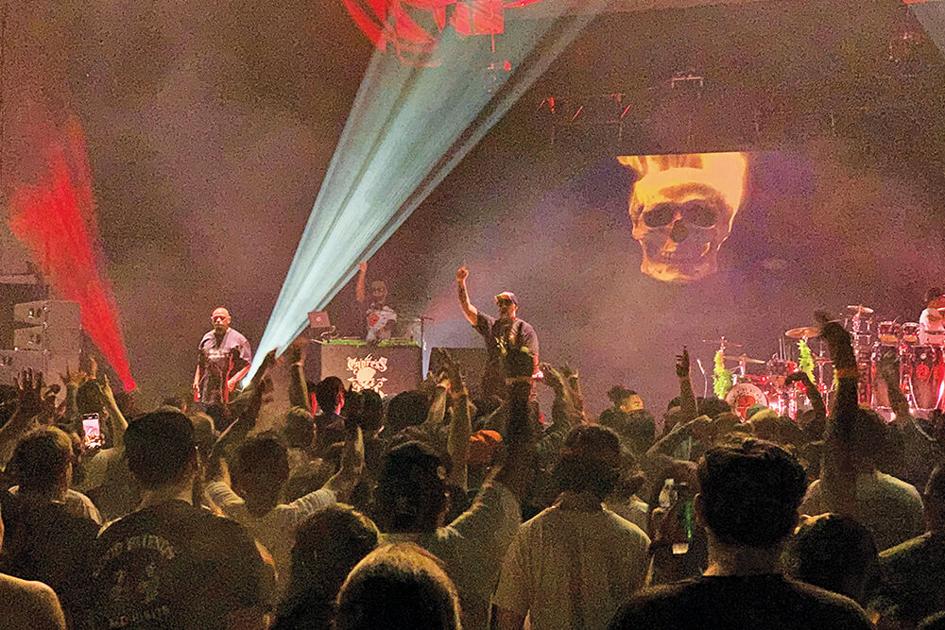 After nearly a year of creepy quiet, live music – big, loud and unfiltered – has plugged back in downtown Mesa.
Even as the Delta variant spreads, unmasked crowds are gathering by the hundreds at music venues.
Last week, bands played in front of roaring fans at the Nile Theater and Mesa Amphitheatre for the first time in more than a year.
At the Nile Theater, fronted by a coffeehouse on Main Street, Michelle Donovan was finally able to flip on the lights and crank up the sound system. 
"We had a first show last Friday (Aug. 13) and starting this weekend we will be back to somewhat of a normal schedule," Donovan said. She has owned the theater since 2010, resurrecting a dormant space.
Last year, the Nile again went dark.
Though Donovan could have hosted touring rock/metal bands with smaller audiences, "the nature of our business is large gatherings." 
With restrictions on capacity, "We held off until we could open at full capacity and do it as safely as possible."
On a business and personal level for the music lover, it was a brutal year.
"We went from having a sold-out show March 10, 2020, to completely closed for one-and-a-half years …  You didn't see it coming. And at first we were like, 'OK, it will be a few months.' Then it kept going," Donovan said.
The coffee shop allowed her to keep some staff employed, with a few quirky events: "We even did a socially distanced haunted house and some drive-in movies."
Now, with restrictions lifted, she felt ready to crank up the Nile. 
"Tours started being booked again. Things started to normalize.  We felt with certain mitigation efforts — like having a fully vaccinated staff — we could resume and do so ethically and safely," she said.
But she stressed the Nile is aware of its surroundings.
"Right now, with the Delta variant doing what it is doing we are taking each show one at a time," she said. "Some (bands) are requiring all patrons to be vaccinated. Some want all masks… It is really a day-to-day, show-to-show call at this point."
Also this week, the Nile joined several other clubs around the Valley in requiring patrons to show vaccination cards or recent COVID-19 test results showing no infections.
"At the Nile, it will go into effect Sept. 20," Donovan said.
Until then: "Staff is masked. We have free masks for patrons if they choose to wear one."
The music continues at the Nile this week, with "Arizona thrash and speed metal icons" Flotsam and Jetsam cranking it up to 10 Saturday, Aug. 28.
A few blocks from the Nile, the Mesa Amphitheatre – aka "The Amp" – also cranked up the volume this week.
At the venue inside the Mesa Convention Center at 263 N. Center St. fans went "insane in the membrane" as hip-hop vets Cypress Hill headlined a show Sunday, Aug. 15.
"Our first concert since COVID," Luis F. Ruiz, general manager of the Amp, said.
The city-owned venue has a blend of city employees and contracted workers. Staff agencies "are still trying to get to their pre-COVID forces and aren't always able to provide the number of personnel we prefer," Ruiz said.
After first being temporarily shuttered March 16, 2020, a month later, a Facebook post told fans, "In the interest of public health and safety amidst the unprecedented health crisis caused by COVID-19, the city of Mesa has extended the temporary closure of Mesa Amphitheatre until further notice."
That was followed by months and months of posts about community news (food bank at the Convention Center), links to at-home concerts and fond memories of shows past (Too Short, 2006; Smashing Pumpkins, 2018).
Last May, the Amp had a mournful Facebook post:
"We're missing live music just as much as you are! Until we can rock out again, check out the lunch and evening concert series happening in #DowntownMesa."
The mellow (and socially distant) downtown shows hardly sated the appetite for big, loud, raging shows and so the Cypress Hill concert was a pretty big deal, for Ruiz.
"This was the first show in nearly two years," he said.
Attendance was 2,200, less than half the 5,000 capacity.
"Currently we are not requiring masks or proof of vaccination," Ruiz said. "The city of Mesa's policy is to encourage unvaccinated people to wear masks and there is no change to the policy at this time, but the city of Mesa will be monitoring the situation and we will issue any changes to our guidelines on our website."
Next up at the Amp: New York-based hard rockers Coheed and Cambria plug in Aug. 28.
For more information: mesaamp.com or theniletheater.com