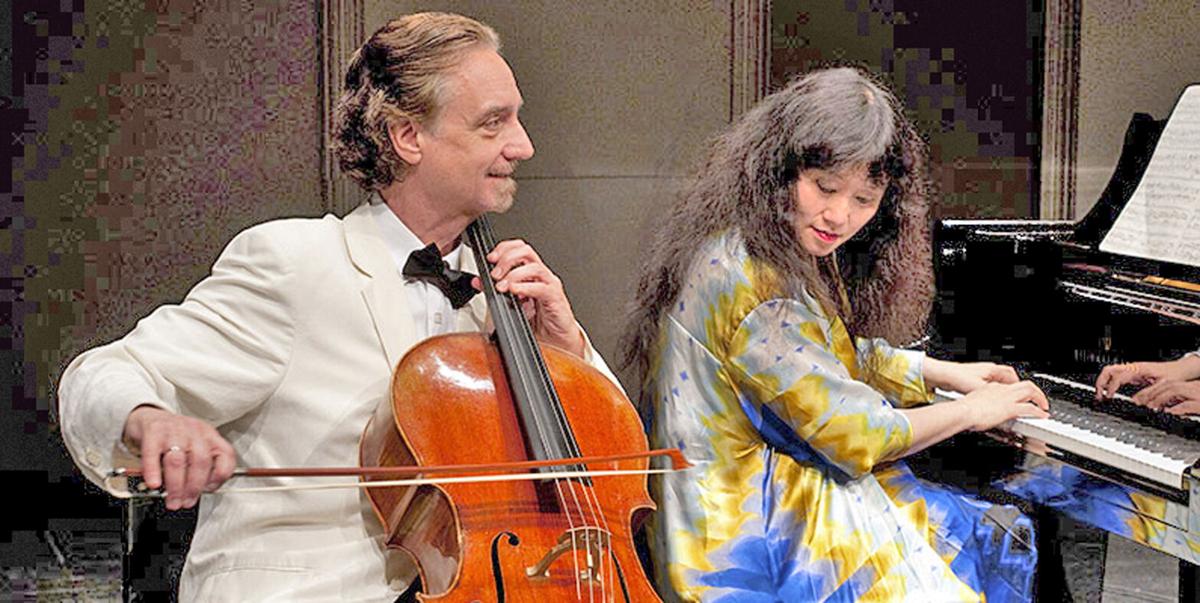 Live classical music has at last returned to San Mateo County. [email protected] opened its chamber music festival last weekend with three hour-long concerts on successive days. Each concert was played twice at the Menlo School campus in Atherton: once in the new Spieker Center for the Arts and again, for those who preferred an outdoor venue, in the Middle School Courtyard.
I attended both performances of the first concert, on the afternoon of Friday, July 16. Hearing live music of the artistic quality that Menlo always offers was a refreshing tonic after such a long wait. The Spieker Center, which was readied to be open last year, but had to have its debut delayed until now, is a small wood-lined auditorium of 384 seats, less than half of which were occupied due to social distancing. It proves to be an auditorium with acoustics of extraordinary clarity. Each instrument could clearly be heard individually.
The theme of this year's Menlo season, which continues for two more weekends, is the simple word "Gather": the joy of people gathering together in shared love of chamber music, a joy that had to be postponed for two years. To celebrate the consummation and to break open the Spieker Center for its first concert, the festival commissioned a brief new work to be performed by its co-artistic directors, pianist Wu Han and cellist David Finckel.
In honor of the festival theme, the piece is titled "Gather." It was written by Patrick Castillo, who in addition to being a composer is a festival administrative mainstay who is retiring from his position as its audience engagement director this year to take up a new post as vice president for artistic planning at the New York Philharmonic.
Reflecting on the chaos of the pandemic, "Gather" begins with confusing overlapping chromatic patterns in the piano, with the cello adding Janácek-like ghostly interjections. Gradually the piano finds coherence by taking up the hymn "Shall We Gather at the River?" and eventually persuading the cello to join in. Menlo doesn't have a river, but it certainly can gather.
This was followed by a vehement and virtuosic scherzo for violin and piano by Johannes Brahms. This was Brahms' contribution to a multi-author sonata written as a gift for the violinist Joseph Joachim. Joachim was supposed to guess the composer of each movement. He should not have had much trouble with this one, which sounds emphatically like Brahms from the first bar.
Kristin Lee was the vigorous and snappy violinist. The thundering piano part was played by Ji Na Kim, who is one of this year's festival's young professional International Program Artists. This year, these musicians are not just playing separate "prelude" performances but are being incorporated into the main-stage programs. Kim, a student of festival veteran Gilbert Kalish, proved as fully capable as her more senior colleagues, which should be no surprise to those who have heard her predecessors in earlier years.
The main item on the program was Franz Schubert's popular and genial "Trout" Quintet for piano and strings. This was played by a troupe of longtime festival mainstays, including Wu Han and David Finckel. The other players were Arnaud Sussmann on violin, Matthew Lipman on viola and Scott Pingel on bass. It was a relaxed and cheerful performance of this intricately crafted but simply appealing work. Each movement ended with audible, as well as visible, smiles.
The concerts in Menlo's second weekend, July 23-25, trace the history of romanticism in music from Beethoven through Mendlessohn, Brahms, Dvorák and on to Shostakovich. The third weekend's concerts, July 30-Aug. 1, each include one great quintet for piano and strings, by Schumann, Brahms and Dvorák, mixing them with French music by Bizet, Fauré and Ysaÿe. At press time, live-streamed and outdoor tickets were still available. In-person attendees must be vaccinated and wearing masks. There are also many free live-streamed Zoom talks and prelude performances. Information is at musicatmenlo.org.