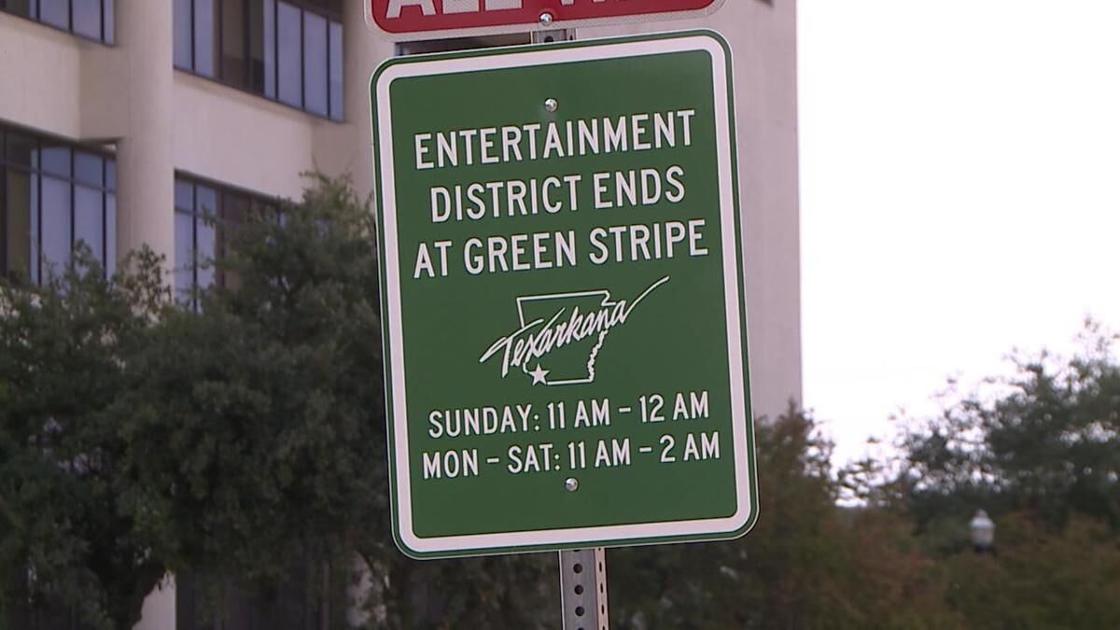 TEXARKANA, Ark. – It's been nearly two years since an entertainment district was established in downtown Texarkana, Ark.
The city's goal with the new district called "The Railyard" is to bring more visitors, businesses and economic growth to the area.
Business owners and city leaders gathered in October 2019 to toast the official beginning of the Texarkana, Ark., Entertainment District.
The city also placed signs stating the district's hours at its borders to make clear where the district begins and ends. Open consumption of alcohol is allowed within the span of a 14-block area of downtown.
"That was a big factor, without the entertainment district, there would be no way we could have made this happen and be going the direction we're going right now," said Les Munn, Crossties co-owner.
Munn, along with partners Joe Gay and Justin Jones, purchased a building inside the district borders in December 2019. It's now called the, "Crossties Performance and Entertainment Venue."
"Had it not been for COVID, we would be way ahead of where we were planning to be right now. Now that the COVID thing is getting to the back burner, things are really picking up," said Munn.
Some of the concerns about the district during the planning stages included safety issues with alcohol, unruly crowds and excess trash littering the downtown area. Munn says that's not be the case.
"What I have seen are the problems it's caused have been good problems, parking may become an issue. The trash thing is becoming a little bit of an issue because now you have more people downtown. You need bigger trash cans for things to go. People in general being downtown has not been a problem. It's actually more exciting," said Munn.
Over the last few months, Munn says they've seen more events, concerts, game nights and new businesses in downtown than there's been in decades.
"We're going to be able to secure other grants and do a number of other things. There's a lot of projects we're working on through the city. We hope we can get through our next fiscal budgets and promote downtown, so those things have caused a lot of support," said Mayor Allen Brown, Texarkana, Ark.
Brown believes the growth downtown is just the beginning.
"We as a city need to also be able to invest in downtown. We've invested in the entertainment district, but now it's growing, so we need to be able to put in some infrastructure to help it," said Brown.
In the beginning, Munn says people were skeptical about their investment and why an entertainment district was even needed. He said now people are enjoying the renewed excited around downtown.
"I think in 18 months to 2 years. It's going to be a completely different town. Things downtown will look completely different and we're excited about it," said Munn.
Last month, city council members on the Texas-side side also voted to approve an ordinance for an entertainment district, which now creates a seamless entertainment district on both sides of state line.