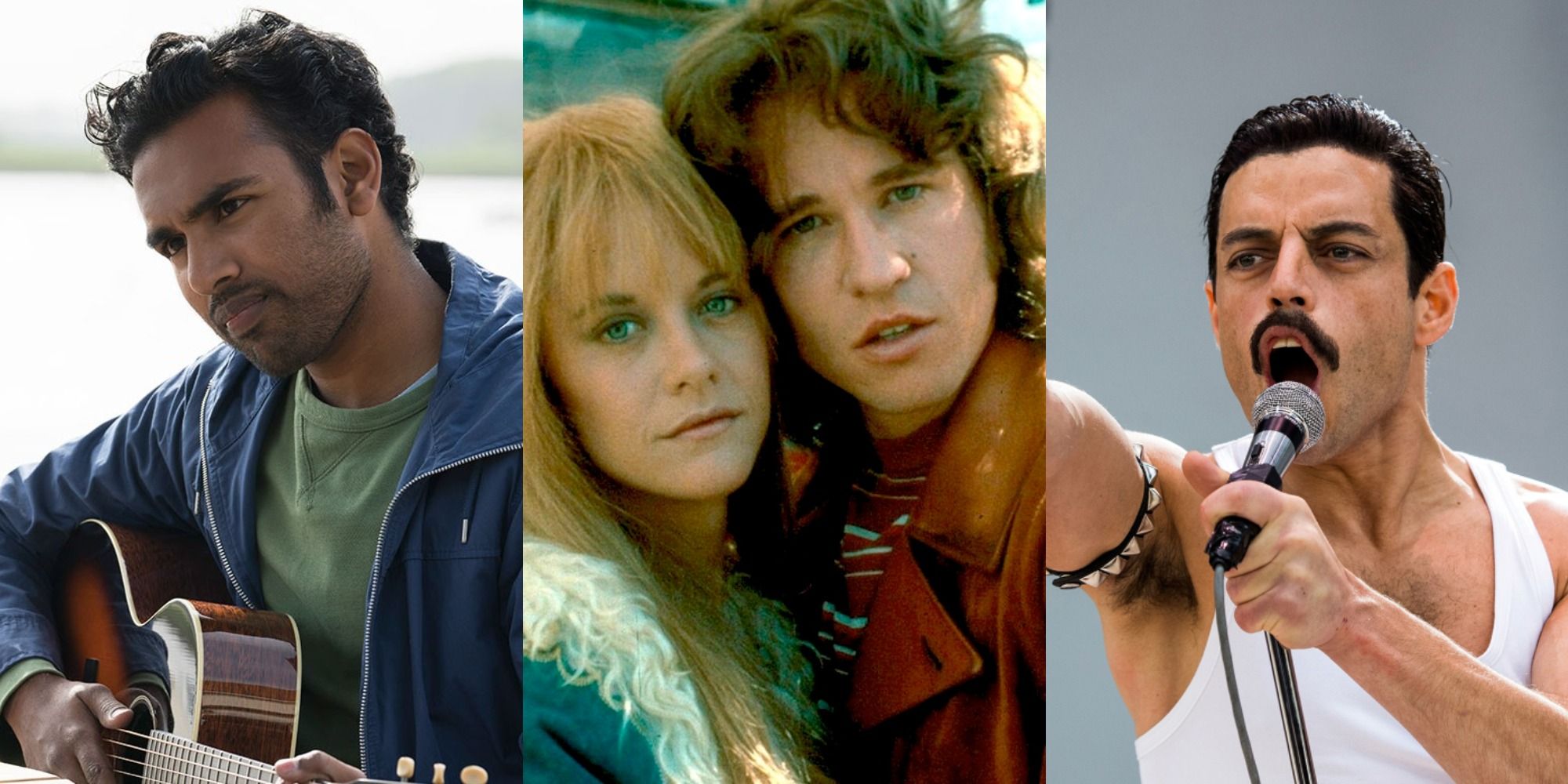 Rock and roll has had a long history, and it has been one of the most popular genres of music since it was invented. Fortunately, it has also resulted in a slew of great movies, as well. Yet, it's hard to tell what exactly makes a good "rock" movie.
RELATED: 10 Best Rock Musician Appearances In Movies
Some viewers place emphasis on the actual movie itself and critique the acting and filmmaking, etc. Others place more emphasis on the music, the movie's soundtrack, and the ways in which the music is implemented into the film. There have been many great movies made about rock music, but these are the best of the best.
10

Yesterday (2019): 6.8
Yesterday has a thrilling and unique concept that begs to be explored further. Himesh Patel stars as Jack Malik, a musician who finds himself in an alternate reality in which The Beatles do not exist. Realizing that he could mine this for millions, Jack begins performing The Beatles' songs as his own.
Patel works wonderfully alongside Lily James, and the song has an understandably killer soundtrack containing Beatles classics like "Eleanor Rigby," "Let It Be," "Here Comes the Sun," and "Help." It's a must-watch for any self-respecting Beatles fan.
9

Tenacious D In The Pick Of Destiny (2006): 6.8
Jack Black was on fire throughout the 2000s, making a name for himself both as an actor and a musician. Alongside Kyle Gass, Black makes up one-half of Tenacious D, a comedic rock band that has been performing since the early '90s. The Pick of Destiny follows the band's hunt for a special guitar pick imbued with supernatural powers.
It's obviously not to be taken very seriously, and both Black and Gass prove themselves to be charismatic goofballs who are more than capable of carrying a film.
8

I'm Not There (2007): 6.9
2007's I'm Not There is mainly remembered for the stunning transformation of Cate Blanchett, a beloved actress who was made unrecognizable as the rock icon, Bob Dylan. I'm Not There is a bizarre film, and one not easily categorized.
The film is a loving tribute to the life and performative art of Dylan, and six different actors are utilized to portray distinctive aspects of his personality and career. Blanchett's performance was widely praised, playing Dylan's controversial mid-'60s persona in which he experimented with electrical music and toured with The Hawks.
7

Wayne's World (1992): 7.0
Wayne Campbell and Garth Algar are some of the most famous embodiments of rock culture. The famous poster for Wayne's World shows Wayne holding a guitar and Garth, a pair of drumsticks, and Garth famously wears rock band t-shirts throughout the majority of the film.
RELATED: The 10 Greatest Movies About Music, Ranked (According To IMDb)
The movie also contains what could be the most famous use of Queen's "Bohemian Rhapsody," as Wayne and his friends headbang to the song in their beat-up car. Few rock comedies are as good or as famous as Wayne's World.
6

School Of Rock (2003): 7.1
Dewey Finn could very well be Jack Black's best movie role, and that's saying a lot. School of Rock is a great rock comedy, following an unemployed musician who manipulates a classroom of children into starting a rock band.
The movie is well written and directed, but Black is the undeniable star of the show, offering up all his goofy mannerisms while charming both kids and adults alike. It also contains an obvious affinity and love for the genre of rock, and few fans will complain about the slew of classic hits on offer.
5

Nowhere Boy (2009): 7.1
Considering the legacy of The Beatles, it may be surprising to see how few movies have been made about their story. Nowhere Boy is one of the few (and arguably the best), about John Lennon's teenage years and the eventual creation of his world-famous band.
As the story takes place before The Beatles hit it big, the movie lacks most of the group's major hits. However, it contains a slew of classic '50s rock and roll songs, and both Aaron Johnson and Thomas Sangster prove commanding leads as John Lennon and Paul McCartney, respectively.
4

The Doors (1991): 7.2
The Doors is one of the most popular rock bands of all time, their name spanning through the decades with timeless hits like "Light My Fire," "The End," and "Break On Through (to the Other Side.)" Their eponymous debut album is one of the most highly regarded rock albums in music history.
RELATED: 10 Best '80s Movie Soundtracks
It's fitting, then, that they received a biopic in 1991. Starring Val Kilmer as Jim Morrison, The Doors was not a commercial success, but Kilmer received widespread praise for his performance as one of rock's most prominent figures.
3

Rocketman (2019): 7.3
Many movies feature Elton John's music, but the international icon was never given a biopic until 2019's Rocketman. The film is a loving tribute to John's career, complete with a slew of fantastic recreations of his most iconic costumes and a number of great musical numbers.
The movie contains all the hits, including "Saturday Night's Alright," "Tiny Dancer," "Crocodile Rock," and "Rocket Man," among countless others, some of the best uses of Elton John songs in a movie. Also of note is Taron Egerton's nuanced lead performance, deftly mixing John's outlandish showmanship with the more tender reality.
2

Bohemian Rhapsody (2018): 7.9
The biopic that everyone was waiting for, Bohemian Rhapsody covers both the private life of Freddie Mercury and the career of Queen. The greatest aspects of this film are its musical numbers (containing some of the most iconic rock songs ever written) and Rami Malek's lead performance as Mercury.
But the interesting thing about this film is the dichotomy between critics and general audiences. Critics didn't tend to care for it and it earned just 60 percent on Rotten Tomatoes), but general audiences adored it, judging by the 7.9 rating on IMDb and $900 million in gross profits.
1

Almost Famous (2000): 7.9
Perhaps the most famous "rock music movie" ever made, Almost Famous was released to immense acclaim in the fall of 2000. A fantastic coming-of-age comedy-drama, the story follows a young writer for Rolling Stone who begins touring with a rock band called Stillwater. With them, he begins lovingly interacting with a groupie named Penny Lane.
The movie is impeccably made, earning Oscar nominations for its acting (nominations for both Kate Hudson and Frances McDormand), editing, and writing (its only win). It could very well be Cameron Crowe's coming of age masterpiece.
NEXT: 10 Best Movie Musicals Of All Time, According To The American Film Institute

Next
5 Animated Movies That Deserved To Be Nominated For An Academy Award (& 5 That Were But Didn't Win)

About The Author